Ultimaker 2+ Connect
Why the Ultimaker 2+ Connect?
---
Sometimes single extrusion simplicity is all you need. The Ultimaker 2+ Connect builds upon the award-winning benchmark of its predecessor, to add intuitive operation and deeper software connectivity.
Build volume: 223 x 220 x 205 mm (8.7 x 8.6 x 8 inches)

Network connectivity via Wi-Fi or Ethernet enables remote printing over the cloud with added security

Easy control with the 2.4-inch color touchscreen

Ultimaker 2+ Connect Air Manager (sold separately) removes up to 95% of ultrafine particles and shields the print area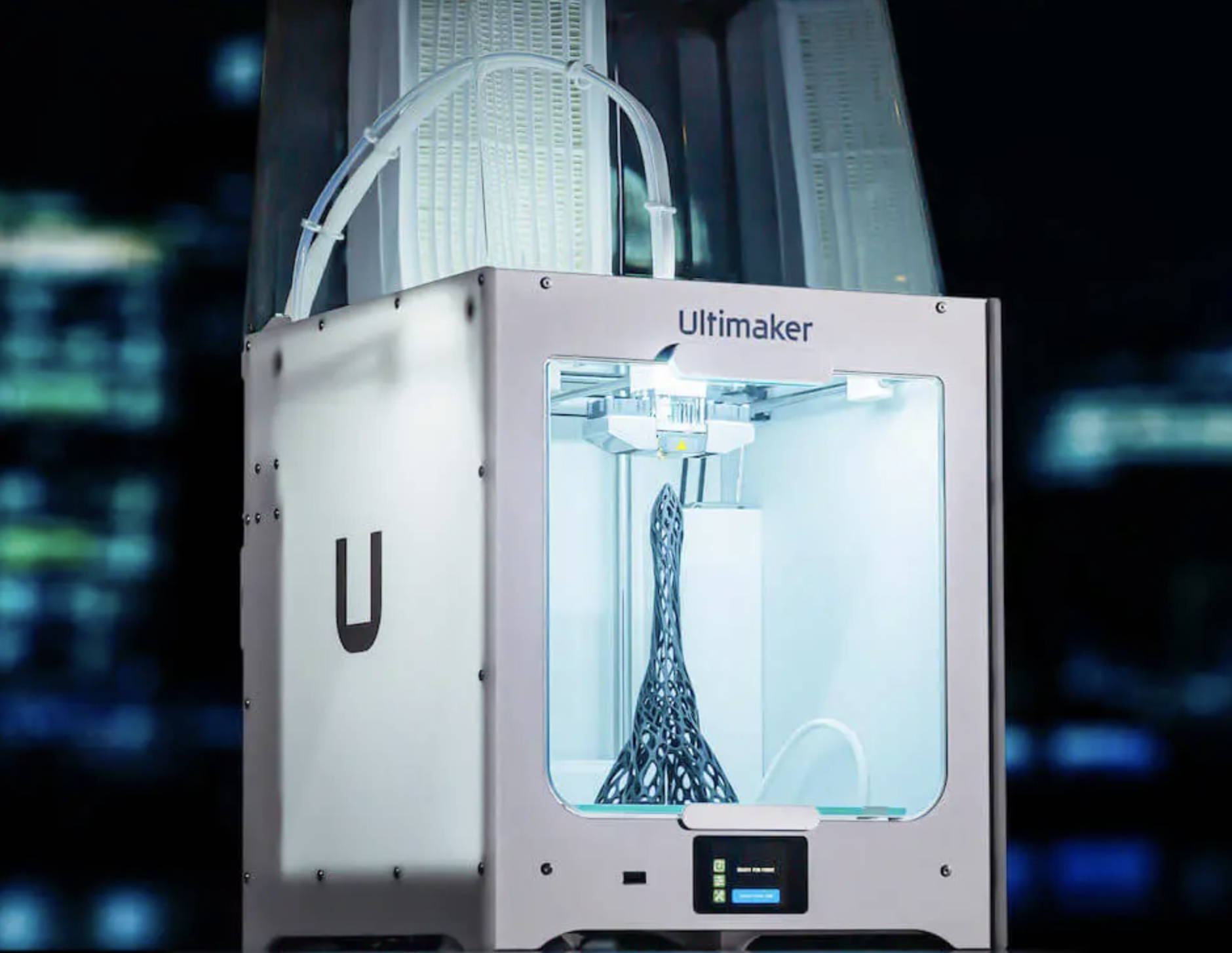 Want a finished print from day one? Unbox and connect three components, and get started via the new touchscreen. This speedy setup even makes installing multiple 3D printers effortless.
And register your Ultimaker 2+ Connect to access an exclusive 30-minute onboarding course taught by Ultimaker experts, who walkthrough installation, Ultimaker Cura, and maintenance.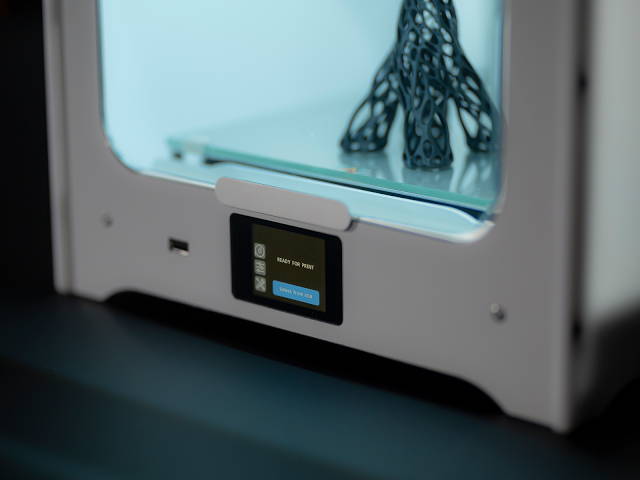 Since 2015, over 6 million prints have been prepared for its predecessor. And the Ultimaker 2+ Connect improves on that workhorse legacy.
A clean and updated design keeps maintenance to a minimum – just 20 minutes per month, without the need for special tools.
And when it comes to changeovers, switch out swappable nozzles in less than 5 minutes for high uptime, from 0.25 mm for detailed prints up to 0.8 mm for fast drafts or 3D sketches.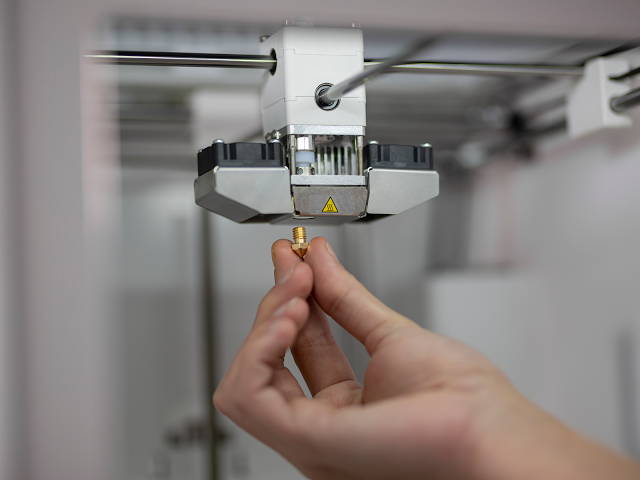 Cloud 3D printing built in
At home, in the office or classroom, easily send print jobs to the Ultimaker 2+ Connect. Via Wi-Fi or Ethernet, cloud 3D printing allows remote file transfer with added security from anywhere in the world.
And with Ultimaker Marketplace, customize your slicing experience with plugins (including CAD integration) for a simpler 3D printing workflow.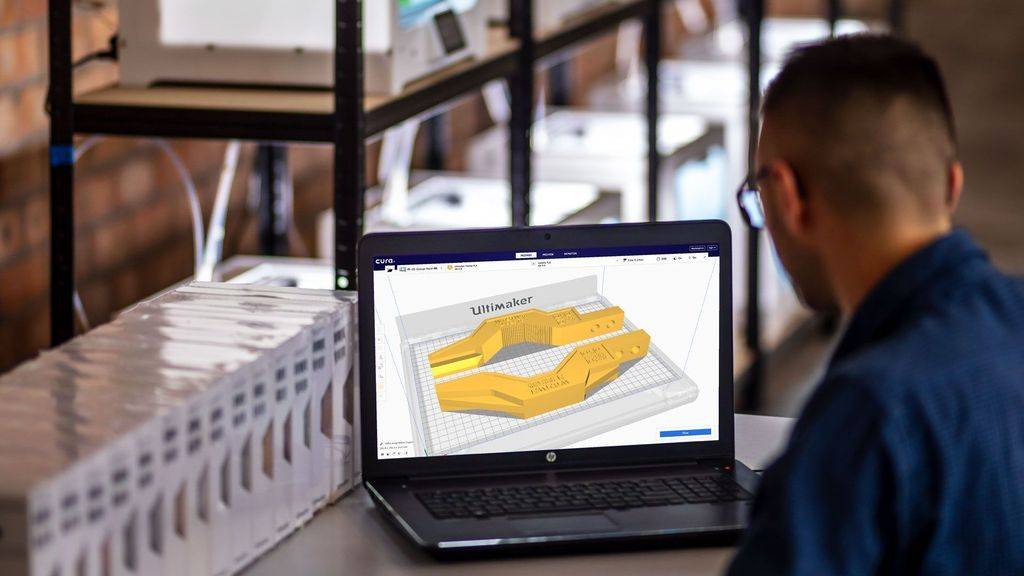 ---
Who is Ultimaker 2+ Connect for?
---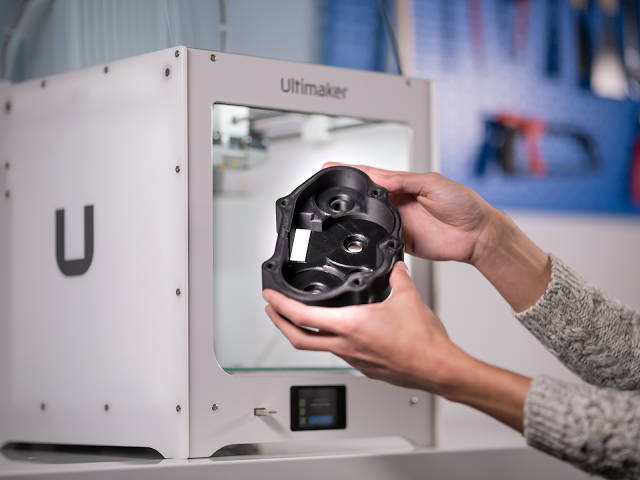 Small enterprises that want big savings
What if iterations could take just 8 hours instead of 80? That's the power of connected in-house 3D printing. And it's made possible with the Ultimaker 2+ Connect.
Test your ideas for less – by 3D printing prototypes with your choice of affordable materials. On average, Ultimaker customers achieve more than 80% cost savings compared to outsourcing.
---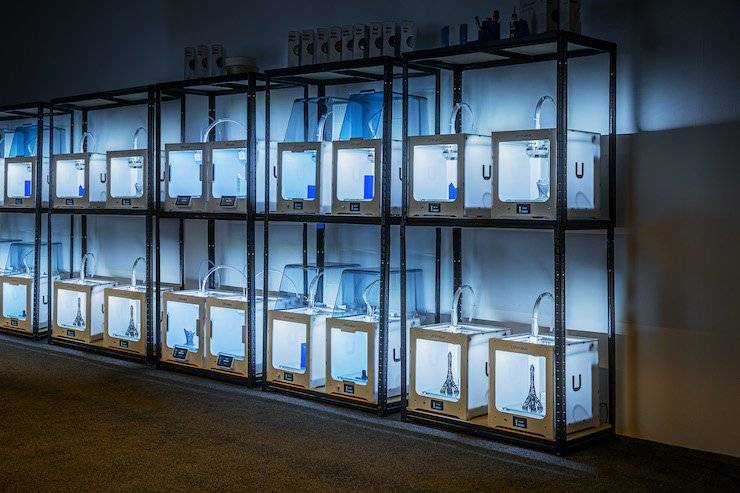 Educators who want to equip more students with future skills
The Ultimaker 2+ Connect is an ideal 3D printer to give more higher education students access to additive technology. Easily install multiple machines to facilitate students' projects – perfect for general access 3D printing labs.
With its simple workflow, the Ultimaker 2+ Connect is the ideal machine for giving a wide range of students access to additive technology – no matter their skill level.
Ultimaker 2+ Connect technical specifications
---
223 x 220 x 205 mm (8.7 x 8.6 x 8 inches)
342 x 460 x 580 mm (13.5 x 18.1 x 22.8 in)
Fused filament fabrication (FFF)
Compatible Filament Diameter
100 - 240 VAC, 50 - 60 Hz
0.25 mm nozzle: 150 - 60 micron

0.4 mm nozzle: 200 - 20 micron

0.6 mm nozzle: 400 - 20 micron

0.8 mm nozzle: 600 - 20 micron
2.4-inch (6 cm) TFT color touchscreen


Single extrusion with swappable nozzle and dual cooling fans
20 - 110 °C heated glass build plate


Operating Ambient Temperature
Non-operating Temperature
Air Manager Filter Technology
Air Manager Filter Efficiency
Ultimaker Cura

Ultimaker Digital Factory
Data encryption in transit and at rest. Two-factor authentication

MacOS, Windows, and Linux
SolidWorks, Siemens NX, Autodesk Inventor
Ultimaker Cura: STL, OBJ, X3D, 3MF, BMP, GIF, JPG, PNG

Printable formats: UFP
Training is available online or via our dedicated network of local service partners.

Register your Ultimaker 2+ Connect for a free, online setup and onboarding tutorial in the Ultimaker 3D Printing Academy.
Market-leading technical support via email, phone, or from our global community is available to you in your language and timezone.
Online resources, extensive manuals, material technical and safety data sheets (in multiple languages), a detailed knowledge base, and much more.